Founder@ Interview
Interview with Jamie Beaumont
" Do not do this for the aesthetics. Becoming a Founder is not a title and it's not about work-life balance and freedom. You need to want to do it for no money, because there is a chance you'll have to for a while.." – Jamie Beaumont
Today we feature Jamie Beaumont, the founder at Playter Pay.
We hear their story in their own words, their successes, their challenges and their insights.
Can you please tell me a little bit about you?
I'm an ex recruiter, turned tech founder who now has a huge passion for problem solving for small to medium sized businesses around the world. Outside of work I'm passionate about wine, cooking and sport in general, especially skiing and cricket!
Thank you. Can you please tell us – How and why did you get into recruitment and start Playter Pay
I got into recruitment after wanting to find an industry that rewarded its workers for hard work and success. I didn't like the sound of a career that progressed solely down to my longevity within businesses, but instead I wanted to find an industry where I would progress because I worked hard and achieved.
What inspired you to do this and why?
When I started Playter Pay, I was a 30 year old ambitious individual and that hasn't changed one bit. In fact, my ambitions have probably grown. I lived and breathed a problem that became overarching for all recruitment agencies as well as SMEs that used them. Instead of moaning about the problem, I wanted to solve the problem. This was where Playter Pay was born.
What you were doing and what made you decide to change direction and become a founder?
When I made the move to become a Founder, I was helping run a recruitment agency. We had created a great team that then went and acquired another business, eventually opening up a couple of offices around the UK. With my understanding of recruitment as well as the exposure to our SME clients, I was in a great position to see the problem from the top down. I'm never a person to simply just see a problem and ignore it, which meant that it was time for me to make a move into becoming a technology Founder.
What does Playter Pay do and where is your company based?
Playter Pay is a Grow Now, Pay Later solution. In other words, we help SMEs spread the cost of their professional services invoices over 6 months. We also have a marketplace that helps exciting businesses connect with world class suppliers.
Based in London, we're excited to be part of a growing FinTech community in the UK.
You recently made the headlines with your £1 million successful fundraising campaign. You were dubbed the Klarna of recruitment. Can you tell us more about this? Who was part of the raise?
We are very lucky to have been backed by some great investors who can see our vision. It's always important to be aligned with those who believe in what you do.
The £1m was split between equity to help us test and grow as well as debt financing so that we could help our portfolio SMEs grow and offer them the Grow Now, Pay Later solution that they deserve. We're also delighted to have been put next to massive names like Klarna, but we have a different mission and will walk our own path!
So what's been the story behind Playter Pay's success? What led to your aha moment? how did you get to where you are now, who helped, who didn't; what did you have to do to get there?
I was part of a team that used to run a recruitment agency, which gave me the pleasure of speaking with thousands of SMEs, as well as understand what it was like to run an agency (basically, what it means to be paid late).
It was during lockdown when SMEs were asking for longer payment terms and recruitment agencies were chasing invoices that I knew something had to be done, and quickly. It's not an issue that has just arisen, it's been around for some time so we're excited to take a stab at being the main solution to this massive, global issue.
Thank you for sharing that. We know that there are ups and downs in business. What's been your biggest lesson so far with Playter Pay?
When you're creating a new concept that an industry hasn't yet been made aware of, a large part of what you do is education. This isn't just to your ideal customers, but it's to the market in general as well as investors.
The main things I've learned throughout all of this is that it's incredibly important to be thick skinned and stick to your guns. Remember, you're doing what you're doing because you believe in it. If that's the case, don't let a few negative individuals put you off.
What advice would you give to your younger self?
I don't think most people realise what being an entrepreneur actually means. It's tough and tests you in a variety of ways. I think if I were to go back a few years and tell myself three key things that would help me before I made my decision they would be:
Be ready to sacrifice everything
Be 100% behind your idea with unwavering determination and belief.
Don't let anyone change your mind and NEVER regret a thing.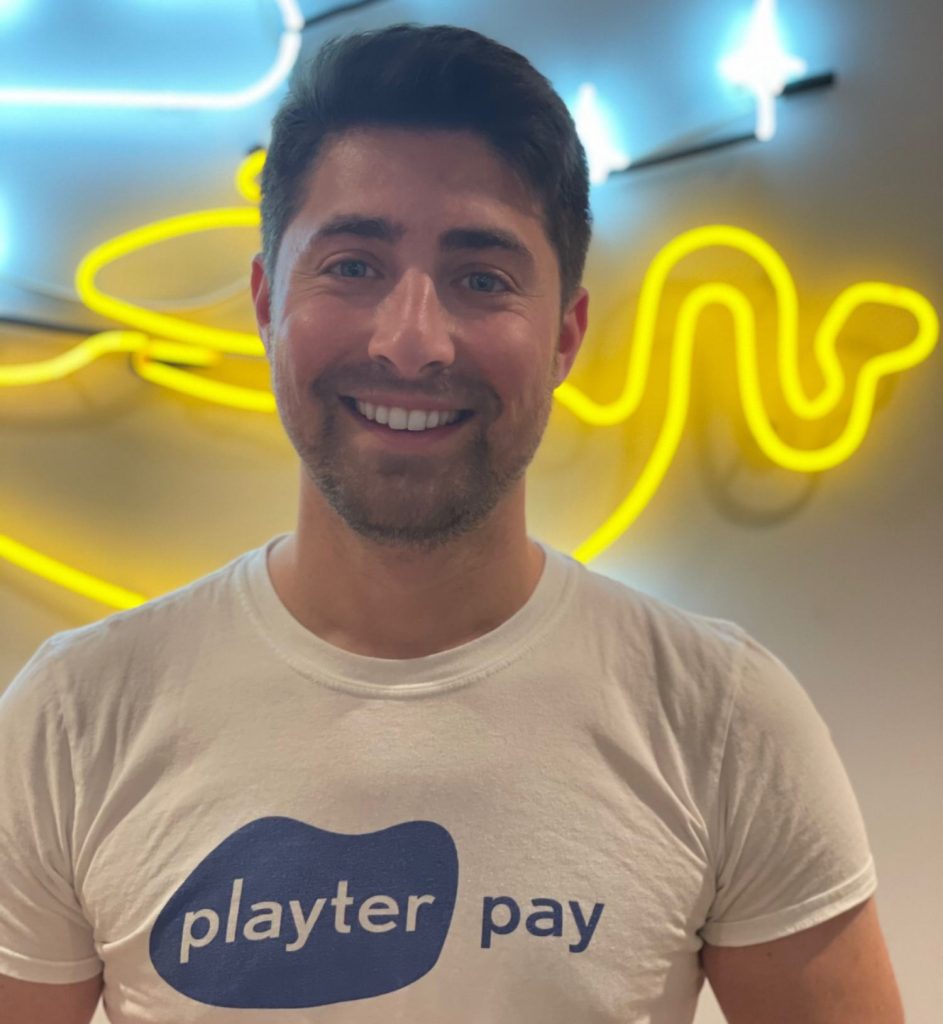 We're nearly halfway through our interview so it's a great time to ask how does Playter Pay run. Most businesses need tools, app or services to run. What three tools make Playter Pay run better?
We love Hubspot, Notion, WhatsApp. This helps us run our business
What do you know now that you wished you had known before starting Playter Pay?
The most important thing I've learned that I wish I knew a while ago is, "I'm incredibly capable". I've spent a long time whilst running my own business trying to find experts to help tell me what to do. If I went back over 3 years, I'd have made a lot more decisions with confidence.
What has been your greatest or proudest achievement or moment?
I get told how proud people are that I've achieved what I have so far, but truth be told, I'm not proud… yet. I don't feel like I've achieved much as of yet and realistically, I've got a long way to go before I can feel proud.
That said, when you have customers that love what you do and it genuinely helps them, it's a nice feeling to have.
Can you tell us about the world's first hiring accelerator?
Our idea is to help businesses grow. Not through revenue, but instead through people. For SMEs, they rarely have any internal resources for hiring, so they often use recruitment agencies. The one main problem is they're expensive and having to pay thousands of pounds up front is always debilitating for the businesses and its cash flow. We do two things.
Firstly, we help SMEs connect with vetted recruitment agencies that have delivered time and time again in the past. This helps SMEs save time on finding a decent agency as well as knowing they can trust them.
Secondly, we help the SMEs spread the cost of their recruitment invoices over 6 months for no extra cost. This helps them hire without harming their cash flow, hire ahead of time as well as allow investing in different areas of the business whilst they hire. We take business from 10-1000 employees without the cash flow worries and growing pains.
What future life goals do you want to achieve and why both for Playter Pay and yourself personally?
I'm a very simple person. I don't like boats, I hate flying and I certainly don't like swanky cars or watches. A nice big house, big garden and big wine cellar will do just fine!
For Playter Pay, our mission is to create a B2B BNPL solution that helps SMEs spread the cost of all of their professional services fees. On top of this we want to be a world class marketplace that helps SMEs connect with amazing suppliers. We're going to be the global leader over the next 5 years.
If there was one piece of advice you would say to another founder or someone thinking about starting, what would it be and why?
DO NOT do this for the aesthetics. Becoming a Founder is not a title and it's not about work-life balance and freedom. If you want to create a business, it'll be completely consuming. Your life will become your business. Your days, your weekends, your years. You need to WANT to do it for no money, because there is a chance you'll have to for a while.
It's not easy, sometimes it's not fun but my God it's the most gratifying thing you'll ever do.
NB: My greatest asset has always been my wife. I don't think I would have gotten through everything without her. If you have family or a partner, make sure they understand just how amazing they are by supporting you. It's not easy for them at all either.
"Thank you it has been great learning more about your founder story and Playter Pay"
To learn more about Playter Pay Visit www.playter.co
Inspired by this story? Please share this story and other founder stories.
For more inspiring founders stories check out Founder Stories.
More from Founder Stories
---
Founder@ Interview - An Interview with Chirag Shah, Founder at Pulse. Read their story now.
Founder@ Interview Interview with Owen Keenan-Lindsey, Founder at Assimilated International, read their story.
Founder@ Interview Interview with Andrea Iervolino, Founder at TaTaTu, read their story.
Editor Picks
---