Interview with Louis Carbonnier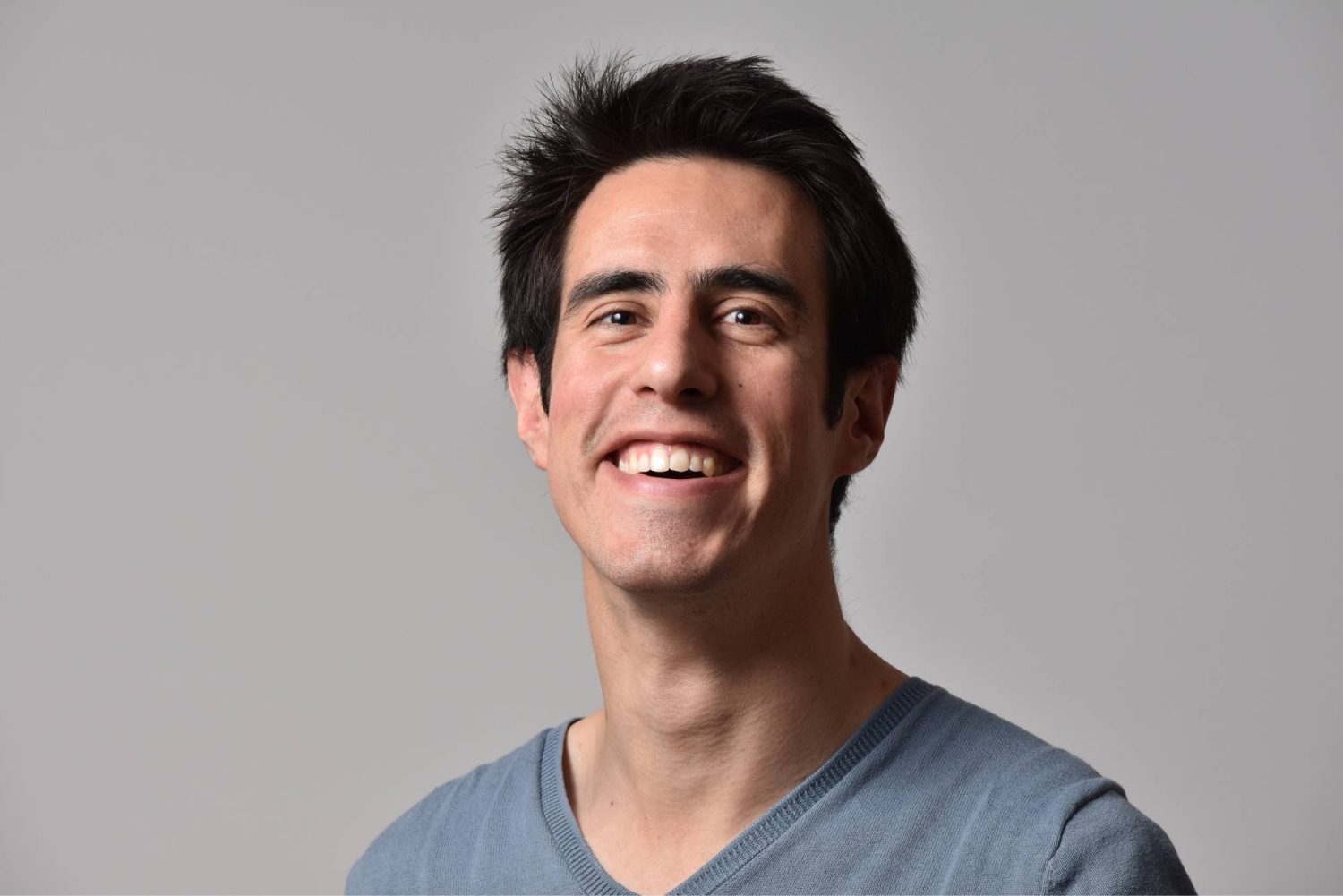 "Find a problem you're passionate about because you're going to be wedded to it for the next 10 years if it takes off. And you'll be going through ups & downs, so you'll need to have that fire in your belly to keep you going through difficult times.." – Louis Carbonnier
Today we feature Louis Carbonnier, the founder at Hokodo.
We hear their story in their own words, their successes, their challenges and their insights.
Let's start by getting to know you. Can you please tell us a little bit about you and what you do?

I'm the co-founder of Hokodo, along with Richard Thornton and Sami Ben Hatit. We launched the business in 2018.
Hokodo is a Buy Now, Pay Later solution, comparable to Klarna and Clearpay, but designed specifically for B2B trade.
Our goal is to help merchants and marketplaces to sell more and grow – without having to worry about the risks associated with offering trade credit online.
Our solution provides simple, safe, and swift payment solutions to B2B trade. Helping SME buyers access fair payment terms, and enabling businesses to easily increase their sales and their service when working online.
A great introduction and start to this interview. Can you please tell us, how did you start, from what age, and what made you decide to change direction and start?
Hokodo came from a gap in the market. Richard and I had a background in embedded finance and had worked together for several years in financial services. Then I moved on to work at Euler Hermes (who recently rebranded as Allianz Trade), the world leader in trade credit insurance and insurance against unpaid invoices. And it was there that I noticed two major shortcomings in credit support.
The first was that SMEs were largely overlooked by trade finance providers, with most service providers targeting the large corporations with sophisticated finance departments.
The second was that trade finance wasn't made for the digital market. The 48-hour cyclical nature of the product just couldn't cope with the needs of e-commerce merchants. Merchants need solutions that work in real-time to support their online sales.
Hokodo was my answer to those problems. Sami joined me to prototype some BNPL APIs. Richard saw the potential and quickly joined us to build the solution that became Hokodo.
Thank you for that insight. So can you tell us…What does your business do and where is your company based?
Hokodo is based in London and Paris. Our long-term vision is to power the B2B digital economy, making it fair and accessible for buyers and sellers alike. And our business model is to provide digital B2B BNPL payment solutions.
Current processes for offering trade credit are outdated and not fit for the digital age. Hokodo's digital platform solves these issues by offering merchants a powerful set of solutions to manage trade credit and scale with confidence. Merchants that integrate with Hokodo see on average a 40% increase in revenues.
Our aim is to bridge the financing gaps that most SMEs face, helping to make the B2B digital economy fair and accessible for buyers and sellers.
What's the story behind your success? What led to your aha moment? how did you get to where you are now?
Our success so far has partly been driven by the fact that we're different. While the consumer BNPL space is rapidly reaching saturation point, even online, the B2B market is critically underserved.
More than 50% of B2B trade is currently done on credit terms. But despite the fact that B2B e-commerce is booming, there has been no good solution today to offer credit terms online. We solve that problem.
While the problem we solve is obvious, it takes a lot of infrastructures to deliver reliable instant credit decisions.
That's why we invested enormously in our data and risk platform right from the very start of the business. We've rebuilt the end-to-end credit management tech stack, including data mining, credit decisions, fraud detection, collections, insurance against bad debt, and financing.
Because that's what will give the business agility, control, and scalability. And the ability to deliver the best payment method for B2B trade while managing risk.

Thank you for sharing that. What's been your life's biggest lesson so far?
As expected when innovating at a fast pace, we've faced a few hiccoughs along the way. Nothing significant enough to disrupt our progress. But enough to make us change our plans, rejig our product – and realise that we could have made certain decisions faster, with hindsight.
So, the biggest lesson is probably to be more confident. And also to be better prepared.
When Hokodo was ready to launch, we had two potential channels to distribute our product: accounting platforms and e-commerce. Based on initial research, we originally opted for the accounting avenue. But end customer adoption wasn't fantastic.
In parallel, we had a couple of pilot partnerships in the e-commerce channel which immediately commanded higher take-up rates from customers. And that made us really uncomfortable.
So, we hesitated to switch off the accounting channel (which was our ongoing assumption) to refocus on e-commerce.
The lessons, then, would be to be more decisive and trust your instincts when assessing product-market fit (PMF). Because we probably could have pivoted 2 or 3 months earlier, which makes a huge difference in terms of biz dev and runway. But it's all worked out well, and the team did an incredible job reorganising to address the e-commerce channel.
We could maybe have got there a little bit earlier, but it hasn't set us back.
More than 50% of B2B trade is currently done on credit terms. But despite the fact that B2B e-commerce is booming, there has been no good solution today to offer credit terms online. We solve that problem.
If you were to go back in time, what piece of advice would you give to your younger self?
My advice would be: prioritise and focus. Because I'm interested in lots of topics, I tend to tinker with a bit of everything. This is fine up to a point.
It was only in my early thirties that I started to understand the power of patient focus. It's very tempting to "keep one's options open" at the beginning of one's career, but I think it's suboptimal in the long run.
We're nearly halfway through our interview so it's a great time to ask how does your business run. What three tools make your business run better?
SCOR / Channel
Access to risk capacity is a prerequisite for Insurtechs. Some build their own. But it's a complex and time-consuming process that involves getting a primary insurance licence. So, we decided to partner with an existing (re)insurer. SCOR's P&C unit Channel was the best fit for our product and brand.
GitLab
When you run a tech business, you really want your code to be centralised, accessible, and auditable at any point in time. GitLab allows us to do all this and provides us with a user-friendly environment supporting remote work.
This proved particularly useful during Covid and helped us foster a culture of asynchronous communications (i.e., in writing) from the start. We're documentation maniacs – we believe this will allow us to scale better in the long term while avoiding the multiplication of meetings.
Hubspot
Finding a CRM system that is comprehensive without being cumbersome isn't easy. But Hubspot manages to do the job. The fact that it's fully integrated with Slack, Google Apps, MailChimp, and more also makes life a lot easier when you're working across several applications.
What do you know now that you wished you had known before?
I don't know! I sometimes get the impression that the more I learn, the less I know… It's a bit paradoxical to say that when you're an avid learner and reader. But it's all a bit vain in the end.
Perhaps the one thing I learned is that knowledge is overrated compared with skills, attitude, and behaviour. There's a quote I love from Talleyrand (a writer, bishop, minister, financier, and entrepreneur from the 19th century, who was born in France but lived in the UK and in the US). He used to say:
"Il y a trois sortes de savoir : le savoir proprement dit, le savoir-faire et le savoir-vivre ; les deux derniers dispensent assez bien du premier".
There are three kinds of knowledge: knowledge proper, know-how and good manners; the last two dispense fairly well with the first. "
What has been your greatest or proudest achievement or moment?
My biggest achievement is when I speak to a new Hokodian who tells me how happy they are that they joined us and how special our culture is. We're all immersed in it and it's not always easy to step back and verify that we're still living our values.
Another source of pride is that we've been going on for four years and never had an argument among founders. Of course, we do challenge each other and debate certain decisions. But it's never been quarrels and power struggles. The feeling of mutual respect and trust is amazing and we're always trying to elevate each other!
What future life goals do you want to achieve and why?
For Hokodo, I would love to see us enabling 1 million businesses to access a better way to pay by 2025.
But on a grander scale, changing the education system has long been a personal goal. Right now, we're seeing an enormous waste of talent – through no fault of the teachers – and I think that needs to be a priority for everyone.
I'd also like to put more emphasis on the importance of switching off. We spend way too much time watching screens and it leads to massive societal issues, including a lack of boundaries between home and work. Let's start a movement where all phones are switched off between 10 pm and 7 am, so we all have at least some time to disconnect.
But for now, like most entrepreneurs, I think, I've always got ideas swirling!
To finish our inspire questions…"We believe that sharing inspiring words can inspire others." If there was one positive thing you would say to someone to inspire and empower them what would it be and why?
Find a problem you're passionate about because you're going to be wedded to it for the next 10 years if it takes off. And you'll be going through ups & downs, so you'll need to have that fire in your belly to keep you going through difficult times. I sometimes see founders feverishly "looking for an idea" in areas such as crypto or VR because they think it's trendy and VCs will finance their brain fart. I find it a bit cynical or disappointing to go about it this way.
Once you've found something that you're interested in, rethink it from the first principles. Don't believe what anyone said or wrote about the area. Don't take anything for granted, speak to customers, find the pain points, and solve them in your own original way. This is how long-term value can be created.
"Thank you it has been great learning more about your founder story and Hokodo"
To learn more about Hokodo Visit https://www.hokodo.co/
Inspired by this story? Please share this story and other founder stories.
For more inspiring founders stories check out Founder Stories.
More from Editor Picks
---
[email protected] Interview Interview with Jordan Richards Today we feature Jordan Richards, Founder at RCCO, read their story.
[email protected] Interview Interview with Edgar Thoemmes & Jack Head Today we feature Edgar: Thoemmes & Jack Head, Founder at …
[email protected] Interview Interview with Dana Hayes-Burke Today we feature Dana Hayes-Burke, Founder at DHB Vision Strategists, read their …
Editor Picks
---